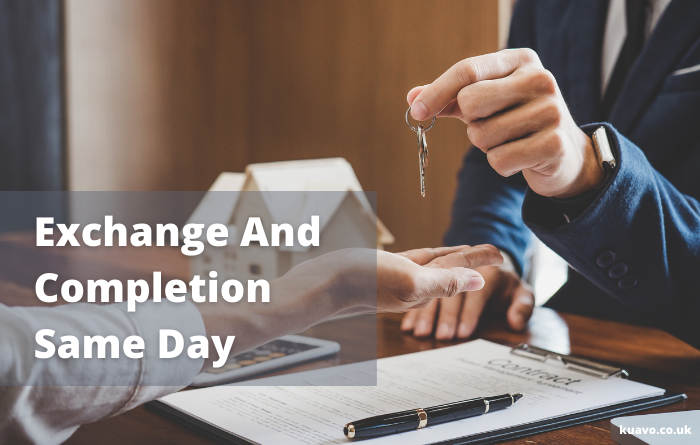 October 6, 2021
Exchange And Completion Same Day – Is It Advisable?
Once you have had an offer accepted on a property, you will be eagerly anticipating your moving date. But before you can move into your new home, you will need to exchange contracts with the vendor. There's no set timeframe for doing so. In some cases, exchange will happen several weeks before completion, whilst in others exchange and completion may happen on the same day. So, what is the optimum length of time between the exchange of contracts and completion?
In this article, we'll explore whether exchange and completion same day is really advisable, including investigating the potential issues that you could run into by taking this path.
Looking to buy your next property? Click here to discover your dream home
Exchange Vs Completion: What's The Difference?
Before we discuss whether or not exchange and completion should happen on the same day, we should first explore exactly what is meant by the terms "exchange" and "completion".
Exchange
The exchange of contracts is the point at which the signed contracts for the purchase and sale of the property are exchanged between the vendor and the buyer. From the point at which this exchange of contracts takes place, both the vendor and buyer are legally bound to complete the transaction on the completion date set out in the contract. If either party pulls out of the transaction after exchange has taken place, they could face hefty financial penalties.
Completion
Completion refers to the day on which the sale is finalised, and the transaction is completed. This is the day that the vendor will vacate the property and hand the keys over to the new owners. Completion is the day that all parties will be looking forward to, when the sale and purchase are finally complete.
When Does Exchange Happen?
There is a lot of paperwork involved with buying and selling a property, and many different legal checks than need to take place before contracts can be exchanged. For this reason, it can take anything from a couple of weeks to several months for solicitors to be ready to exchange contracts after an offer has been accepted on a property.
If you are in a chain, the solicitors will need to wait until every member of the chain is ready to exchange contracts before this can take place. For this reason, transactions that are part of a chain can often take longer to exchange than chain-free transactions.
For exchange to take place, both the buyer and the vendor will need to sign identical contracts. The solicitors will then read the contracts out over the phone to each other, followed by immediately sending the documents to each other. At this point, the exchange of contracts has taken place, making the sale of the property legally binding.
How Long Between Exchange And Completion?
There is no set period of time between exchange and completion, but in the majority of cases, exchange will happen 1-2 weeks before completion. There are some cases in which a longer period of time is required between exchange and completion, for example if one party in the chain needs to give notice to terminate a rental contract or in the case of new builds which may not be ready to move into.
A minimum of one week is usually preferable between exchange and completion. This allows time for all parties to pack their belongings and book removals, as well as arranging the transfer of services such as electricity, WiFi and a TV license.
If the transaction is part of a chain, the completion date will need to be agreed between all parties. This means that you may need to compromise on the completion date, especially if you are part of a longer chain.
Thinking about selling your property? Book your free valuation here
Should You Exchange Contracts And Complete On The Same Day?
Many people ask whether it is possible to exchange contracts and complete the purchase on the same day. This can be a tempting option if you are eager to move into your new home, and it is possible to do so. However, there are some risks involved with exchanging and completing on the same day.
The biggest problem with exchanging and completing on the same day is that it increases the chances of something going wrong. For example, if a piece of paperwork hasn't arrived in time or last minute mortgage issues crop up within the chain, the transaction may need to be delayed.
The chance of problems arising during a same day exchange and completion is far higher if you are in a chain. This is because there are more chances for things to go wrong when more transactions are involved. Every transaction is dependent on one another, so if one issue arises, the whole chain could collapse.
If there is two weeks between exchange and completion, there is time for the issues to be resolved and the moving date to still go ahead. However, if something goes wrong when you have already loaded your belongings into a removal van, the delay could be costly.
It's also important to note that certain lenders have a minimum time requirement between the exchange date and the completion date. If you have already got a mortgage in place, you will need to check that they will accept same day exchange and completion before deciding to go ahead with the option.
When Is A Completion Date Set?
You can put forward a completion date at any point during the conveyancing process. However, this does not mean that the date is set in stone, as unforeseen delays are common during this time. For this reason, it's recommended that you don't book removals or begin transferring your services until exchange occurs.
The completion date does not become legally binding until the exchange of contracts has taken place. This means that the completion date may change up until the point at which contracts are exchanged.
How much choice you have when it comes to the completion date will largely depend on the length of the chain. In longer chains, you are less likely to be able to choose the date for completion as it will need to suit everyone in the chain. With shorter chains, you will be able to put forward a date that can be agreed between all parties.
Related Questions
Who Is Responsible For Repairs After Exchange Of Contracts?
After the exchange of contracts has taken place, the buyer becomes legally responsible for the property. This means that they are then responsible for any repairs that the property required. For this reason, you will be required to have buildings insurance in place before exchange takes place, covering the property in the case of significant damage occurring between exchange and completion.
What Happens If You Back Out After Exchange Of Contracts?
When contracts are exchanged, the property transaction becomes legally binding. This means that if a vendor or buyer decides to pull out after the exchange of contracts has taken place, legal action can be taken and damages can be claimed. In the case of the buyer pulling out of the transaction, the seller would also be able to keep the exchange deposit.
The Bottom Line
It can be tempting to exchange and complete your transaction on the same day, especially if you have been waiting for a long time for the transaction to go through and you are eager to get the keys to your new home. However, there is a high level of risk involved with making this decision, so it's important to consider carefully your options and weigh up the risks before opting for exchange and completion on the same day.
The safest option is to allow 1–2 weeks between exchange and completion, giving time for any problems to be rectified before moving day. This will help to reduce the chances of any delays, ensuring that the transaction goes smoothly.
Ready to sell your property? Click here to discover how we can help you