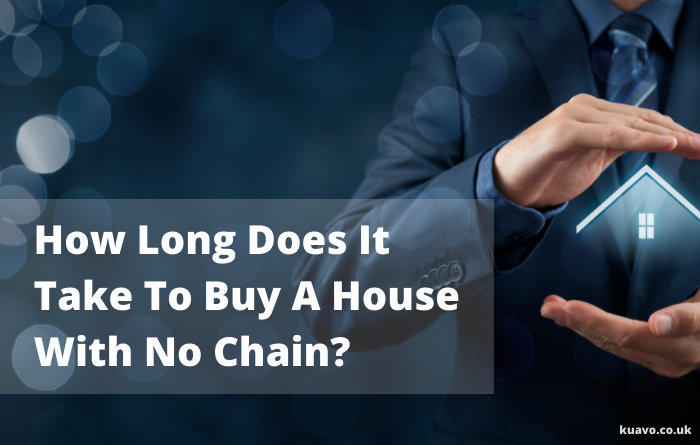 October 4, 2021
How Long Does It Take To Buy A House With No Chain?
Purchasing a house without a chain will often be quicker than a house that has a long and complex chain. However, that doesn't mean that it's always a straightforward process, and it can be difficult to put a timeframe on it.
Many buyers ask, "how long does it take to buy a house with no chain?". In this article, we'll discuss the answer to this question, including the average time from offer to completion, the things that could hold up your purchase and whether there's anything you can do to speed it up.
What Is A Chain?
If you're new to buying and selling property, you might be wondering exactly what a chain is. A chain is made up of all of the people involved in the buying and selling of property. The bottom of the chain begins with someone who doesn't have a property to sell – usually a first time buyer. The top of the chain then ends with the person who isn't purchasing another property.
Generally, the longer the chain is, the longer the conveyancing process is likely to be. This is because the chances of problems occurring are higher with more transactions taking place. If one sale falls through, this can cause a chain reaction through the chain as other parties become unable to complete their ongoing transaction.
Buying a house without a chain can help to prevent delays, enabling the transaction to go through more quickly. However, this isn't guaranteed, as it will depend on the unique details of the individual case.
Searching for your forever home? Take a look at our available properties
How Long Does It Take To Move If No Chain?
When a property is owned by an investor, a homeowner who is moving abroad or a deceased person, it is likely to be sold without a chain. This applies to around 10% of property sales in the UK. Purchasing a property with no chain is likely to be faster than a property that is involved in a chain, but just how quickly could the transaction go through?
The average timescale from offer to completion for a property with no chain is around six weeks. However, this can be as little as four weeks or as long as twelve weeks, depending on the property.
What Can Slow Down A House Sale?
If you've decided to purchase a property without a chain, you're probably eager to get the keys to your new home as quickly as possible. However, there are a few factors that could delay your purchase. Let's take a look at some of the things that can slow down the conveyancing process.
Mortgage Application
Many home buyers take out a mortgage to enable them to purchase a property. Whilst many mortgage applications are simple, some can take longer, especially in more complex cases. This may be the case if you are self-employed or have a more complicated credit history.
Searches
Before you can purchase a property, searches must be completed to ensure that the property is being sold legally and there are no environmental hazards in the area. These are known as searches and are carried out by the local authority in which the property is located. Whilst these searches are usually returned in under two weeks, at busy times, this can take longer, causing delays to the conveyancing process.
Surveys
Although enlisting a survey is not a legal requirement for purchasing a property, it is highly recommended. This can highlight any issues with the property that you may not be aware of, helping to avoid running into unexpected and potentially costly problems later down the line. Surveys usually take 1-2 weeks to be completed and can be done simultaneously to the conveyancing process. However, further investigation may be recommended as a result of the survey, which could extend the timescales.
Estate Agents
You might think that an estate agent's job is complete once an offer has been accepted on a property. However, the best estate agents are more than aware of the stresses that both vendors and buyers can face during the conveyancing process. Look for an estate agent that will support you through this process, chasing solicitors when needed to ensure that the purchase and sale are completed in a timely manner, with as little stress as possible.
Click here to discover the house of your dreams
How Can I Speed Up My House Purchase?
Whilst choosing to purchase a house without a chain is a good way to speed up your purchase, this isn't the only factor that influences the length of time it takes to buy a house. For this reason, there are a few things that you can do to minimise delays during your purchase. Let's take a look at some of those things.
Choose A Reputable Solicitor
Your conveyancing solicitor will have a huge influence over the length of time that it takes for your purchase to complete. Whilst they may not be able to avoid certain types of delays, choosing an experienced solicitor will help to eliminate any unnecessary delays and keep your purchase moving even if you do run into any problems.
Maximise Your Availability
Even with the best solicitor, they won't be able to push your purchase through if they can't get in contact with you. If you want to keep the duration of the conveyancing process as low as possible, it's important to maximise your availability, making it easy for your solicitor to get into contact with you. This means responding to emails promptly and answering your phone wherever possible.
Suggest A Completion Date
In the majority of cases, negotiating a completion date early in the conveyancing process will help to speed up the process. This is because all solicitors involved will be aware of the dates that you are working to upfront, so they can try to avoid any unnecessary delays.
Related Questions
Why do solicitors take so long when buying a house?
Before a house purchase can go through, there are a number of different checks that need to be completed by your conveyancing solicitor. These include searches against the land registry, as well as any environmental hazards. The solicitor will then make enquiries based upon the results of these searches, ensuring that everything is in order for your purchase. Whilst this process can take as little as four weeks, more complex cases can take several months to go through the conveyancing process.
How long does it take to exchange after searches?
There is no straightforward answer when it comes to how long it takes to exchange after searches have been completed. This is because it will depend on the number and complexity of enquiries that are raised as a result of the search results. In clear cut cases, this could take as little as one week. However, if multiple complex enquiries are raised, it could take several months for these to be answered sufficiently.
Choosing An Estate Agent To Sell A Property Without A Chain
If you're looking to sell a property without a chain, you are probably searching for the right estate agent to market your property on your behalf. For too long in the UK, estate agents have offered the same one-size-fits-all approach, but that just isn't good enough.
At Kuavo, we do things differently. When you choose to buy or sell property through Kuavo, you're enlisting the help of a team of experts who are dedicated to you. We are committed to being by your side from start to end, taking the stress out of buying and selling property.
Not only will we market your property and conduct your viewings, but we'll also support you through the conveyancing process, ensuring that everything goes smoothly. Property shouldn't be stressful and we're here to change things.
If you're ready to take the next step, contact us to book a free no-obligation valuation today.
Ready to make your move? Book your free valuation today
Alternatively, if you're wondering "how long does it take to buy a house with no chain", we have a wide range of properties available to choose from. Take a look – you might just find the property of your dreams.