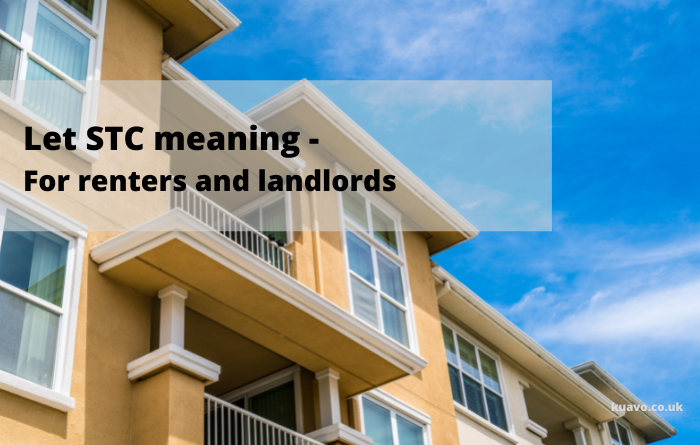 October 5, 2021
Let STC Meaning – For Renters And Landlords 
'Let stc' stands for 'let subject to contact' and is a shorthand that indicates a renter and landlord have agreed a new rental agreement on a property in principle, but that the final checks and processes to complete before a final tenancy agreement is issued, have yet to be finalised.
Although estate agents can use different terminology between firms, most commonly the 'let stc' part of the rental process comes after the 'under offer' phase and before the 'let' status. It will usually be represented as a status shown on online property listings or as a banner on a physical board outside of the property.
Agreements, Checks And Tenancy
Generally in the lettings market, when a property is listed as 'let stc', both the landlord and the renter are in an open agreement until both sides are completely satisfied that all pre-tenancy checks have been made. When all terms have been mutually agreed, both parties can proceed to signing the final, and legally binding tenancy agreement.
_______________________________________________________________________________
Looking to sell your investment rental property in the North West? 
______________________________________________________________________________
Now you know what let stc means, read on to see what this status means for both landlords and renters who are actively letting their property or looking to rent a new home. 
What Does Let STC Mean For The Landlord?
As a property owner, when one tenancy ends, knowing that your next tenant has been found and the continued rental income has been maintained is a relief and a weight off your mind. Your letting agents will keep you updated with renter interest in your property, but knowing the shorthand they might use in their communications in advance will help you quickly to understand the current status of your property and how far away you are from securing the next tenancy agreement on your investment.
When the landlord or owner of a rental property is notified their property is let stc, this means that property has effectively been taken off the market and a suitable tenant has been found.
At this point in proceedings, the property will still be listed on the estate agent's website and any other property advertising portals that it has been listed on, but it will be marked as having the updated status of 'let stc'. If the owner of the property has given permission for a marketing board to be erected outside the building, then this will also be updated with a strip to indicate it is now 'let stc'.
When the property is listed as let stc, the letting agency working on your behalf will conduct any pre-tenancy checks, gather references and establish the suitability of the tenant prior to getting the tenancy agreement signed.
_____________________________________________________________________
Looking to purchase your next buy- to- let in the North West?
_____________________________________________________________________
What Does Let STC Mean For The Renter?
As a renter, searching for a new home can be both an exciting and stressful time that requires quick action to ensure that any interest is registered against suitable listings ahead of others in the competitive rental market.
Renters will be bombarded with an array of property and property statuses in their search for the perfect home so it pays to be aware of the shorthand and terminology they're likely to come across.
Knowing what abbreviations like let stc means will ensure that they do not waste their time inquiring about listings that are likely to be completed very soon but can focus on finding available property that ticks all of the boxes on their 'must-have' list.
The Property I Have Enquired About Has Been Updated To Let STC
If you are a renter that has expressed interest in renting a property and this has been approved in principle by the landlord or letting agency, then you are halfway to completing the deal. At this point the property will be listed as Let STC.
After your rental application has been provisionally accepted, the landlord will need to make further checks such as a credit check and check previous tenancy references in order to complete the letting and sign the tenancy agreement. During the time these processes take to be completed the property will be listed as let stc.
Although this stage of the renting process can be frustrating for potential tenants, it is essential that the landlord or estate agency acting on their behalf complete any pre-tenancy checks before signing the legally binding tenancy paperwork. So sit tight and be patient and don't be afraid to ask your letting agent how things are coming along if you think things are taking longer than they should.
I Am Browsing Rental Listings And The Property I Want Is Showing As Let STC.
If you are browsing rental properties online and see the status of let stc, this means that another renter has submitted their application for the property and this is currency being processed before a new tenancy agreement is issued.
Although knowing that another party is halfway through the process to complete their new tenancy on the property may put you off applying too, it's still worth registering your interest in the listing with the letting agent.
If either party pulls out, you will be on the list for the letting agent to contact you which could be especially important if this property looks like it could be perfect for you.
Related Questions
Is Under Offer The Same As Let STC?
There is plenty of standard terminology used across the property market and when browsing rental properties online, landlords and prospective tenants may come across the phrase 'under offer'. The meaning of under offer is similar to let stc but with one key difference.
If a property has a status as 'under offer', this indicates that a rental offer has been received from one or more prospective tenants but the property owner or management company acting on their behalf have yet to accept them.
In a nutshell, 'under offer' is the stage before a let has been agreed and the status of a property listing is updated to let stc.
Can Other People Still View The Property When Let STC?
There is no law preventing further viewings on a property that is listed as let stc but it is frowned upon.
If a property is listed on various property portals online with the status of let STC, this will usually put most other renters off applying or expressing an interest in the property but there is nothing to stop interested parties doing this and nothing to stop the estate agent offering further viewings, but most don't due to the time involved.
The moral thing for the landlord and estate agent to do is to complete their discussions with the existing interested party before entertaining any new enquiries. If however the original rental falls through, it is useful for the landlord to have a list of other interested parties to contact in the event the agreement doesn't complete or if either party pulls out.
As an estate agent's contract is with the owner of the property that they are listing to rent, it's important to know that estate agents are legally obliged to pass on any higher offers to their client. This could mean if you are a renter and your rental application is at the let STC stage and another renter offers a higher rent to secure the property, then the agent would have to pass this on to the owner.
It would then be up to the property owner to decide how to proceed. Although this is incredibly frustrating for the original renter, it's worth noting that this happens very rarely in the rental market and is more likely to occur when dealing with property sales.
Final Thoughts
Whether you're a landlord or tenant, the time taken for a listing to change from 'available' to 'let' can feel like a lifetime. We hope this article has given you a clear overview of 'let stc' meaning and what to expect for either party looking to make their next big move in the rental market.
If you are an investor looking to secure your next buy-to-let property in the North West do take a look at the properties we have available to buy right here or if you are looking to sell an existing investment property in the area, please get in touch with our expert estate agents to get the ball rolling with a valuation of your property before it's put on the market.
Kuavo helps people to buy, sell and rent their homes. With over 50 years of combined industry experience, our team aims to take the stress out of property and bring a brighter approach to Real Estate.